Movie Theater HVAC Repair, Maintenance & Installation Company in South Florida
AC Power & Comfort is proud to provide service to our South Florida Movie Theaters! Movie Theater HVAC maintenance, repair, and service are just as important as the films showing at your theater. Hot, damp, or humid theaters won't attract movie-goers, so always contact AC Power & Comfort for your movie theater HVAC needs!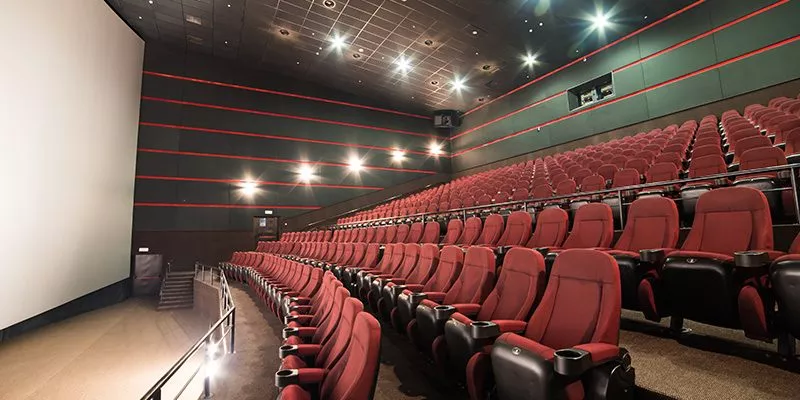 General Repairs for Movie Theater HVAC Systems
Here is a list of some of the most common movie theater HVAC issues that our AC Power & Comfort team can repair for you:
Discover problems with the outside units that affect the indoor unit blower not properly to cycle
Solve cooling problems
Fix water leak problems
Fix ventilation issues related to the ductwork or movie theater HVAC unit
Eradicate odors or bad smells coming from vents
Troubleshoot AC technical communication systems
Solve thermostat issues
Identify reasons for high energy costs
Clean dirty or moldy air ducts
And much more!
24-Hour Movie Theater AC Repair and Service 
In the hot and humid South Florida weather, it's almost impossible for a movie theater to operate with HVAC unit issues. At AC Power & Comfort, we know that movie theater air conditioning problems can occur at any time — that's why we offer 24-hour movie theater HVAC repair. Our skilled technicians can arrive as soon as possible, troubleshoot HVAC system issues, resolve the problem, and get your movie theater up and running in the most efficient way possible.
Movie Theater AC Repair for All Types of Equipment
Our AC Power & Comfort team provides movie theater HVAC repair, maintenance, and service to the following equipment:
Heating systems
Cooling system
Low-pressure boilers
Commercial water towers
Heat pumps
Commercial pumps
Chiller Equipment
We're not only skilled and experienced in fixing all types of movie theater air conditioning equipment, but our technicians are also knowledgeable on a wide variety of HVAC equipment brands. Contact AC Power & Comfort today for any movie theater HVAC repair on any equipment!
Movie Theater HVAC Service & Indoor Air Quality Assessments
When you have a packed theater with individuals and families seeing the latest blockbuster hits, the last thing you want is to have poor indoor air quality. Poor indoor air quality can lead to odd smells coming from vents –and more importantly, it can be dangerous to your health. Bad indoor air quality can lead to respiratory issues, constant coughing, migraines, eye irritation, and other flu-like symptoms. It can directly affect your movie-goers as well as your employees.
AC Power & Comfort can provide indoor air quality evaluations as well as movie theater HVAC maintenance. To learn more about your indoor air quality, contact us today to schedule an inspection.
Contact Us for a Movie Theater HVAC Maintenance Services
Did you know that you can save a significant amount of money each year by having your HVAC systems inspected and maintained? That's why we offer movie theater HVAC maintenance packages that ensure your movie theater air conditioning units are running smoothly all year.
Here are the movie theater HVAC maintenance packages we offer:
Bronze – a 1-year contract that includes two annual inspections.
Silver – a 2-year contract that includes four annual inspections.
Gold – a 3-year contract that includes six annual inspections.
Call us today if you're interested in a movie theater HVAC maintenance package. We can find the right maintenance contract for you that meets your needs and your budget!
Need to Install a New Movie Theater HVAC System?
At AC Power & Comfort, our goal is to always fix the existing problem before recommending an entirely new HVAC system. However, the time comes for every unit to be replaced. If you're interested in replacing your old unit and installing a new movie theater HVAC system, contact us today to learn more about our installation process and any deals on commercial HVAC units.
Frequently Asked Questions About Movie Theater Air Conditioning Repair and Service
What do your indoor air quality checks include?
When we provide movie theater air conditioning repairs and service, we sometimes discover indoor air quality issues. Our technicians will immediately recommend an indoor air quality inspection. Our indoor air quality checks involve:
Thorough assessments, cleaning or replacing air ducts
Mold Remediation
Full-Service Duct Cleaning and Mold Remediation
UV Lights & Replacements
Filtration Systems
Dryer Vent Cleaning
To learn more about movie theater HVAC service and indoor air quality checks, contact us today!
What are the benefits of movie theater HVAC maintenance contracts?
There are tons of benefits involved in movie theater HVAC maintenance packages. First, having your movie theater air conditioning unit serviced and maintained throughout the year can help discover problems before they start. If you want to avoid shutting a movie theater down due to air conditioning issues, a movie theater HVAC maintenance contract is your best bet. By solving these HVAC issues before they become significant cooling problems, you can save money on costly repairs and keep your theaters cool year-round. Contact AC Power & Comfort today to hear more about our movie theater HVAC maintenance packages.
What can cause a movie theater HVAC system to deteriorate?
Many things can cause wear and tear on a movie theater air conditioning system and equipment. For example, high temperatures or strong winds can cause a rooftop or outdoor HVAC unit to deteriorate. Lack of maintenance can lead to substantial air conditioning problems. Things like keeping filters and coils clean, modernizing communication systems, and examining drain lines are critical routine movie theater HVAC inspection tasks. That's why we always recommend having a movie theater HVAC unit maintained several times a year.
What HVAC unit brands do you recommend for movie theaters?
The type of HVAC brand we would recommend for a movie theater will depend on a few things, such as the size of the property and your energy-saving goals. Keep in mind that AC Power & Comfort technicians are skilled in all movie theater HVAC equipment brands, so we can maintain and repair it regardless of the brand you choose! Contact an AC Power & Comfort representative today to schedule an appointment for a new movie theater HVAC unit consultation.
Can you help us save on energy costs?
AC Power & Comfort would be happy to evaluate your current movie theater air conditioning issues and identify ways to reduce energy costs. For instance, you may have an HVAC unit that is too small for your movie theater, leading the unit to be unnecessarily overworked. High costs can also be a result of ductwork damage. Regardless of the issue, we can discover ways to help you save on energy bills.
Call AC Power & Comfort for the Best Movie Theater HVAC Repair and Service!
AC Power & Comfort provides HVAC service, maintenance, and repair for movie theaters in Palm Beach County, Dade County, and Broward County. Remember that we can handle movie theater HVAC repairs 24 hours a day, 7 days a week. Contact us today, and a certified AC Power & Comfort technician will be happy to assist you and manage your movie theater HVAC needs.