Rooftop AC Unit Installation Services in South Florida
AC Power & Comfort is South Florida's leader in commercial rooftop AC unit installation services. Installing a rooftop AC unit can be a complex project.
There's a lot that goes into rooftop AC installations to make sure the system runs and functions properly to meet a commercial building's cooling and heating needs.
This means that it's crucial to work with rooftop AC installation professionals with experience.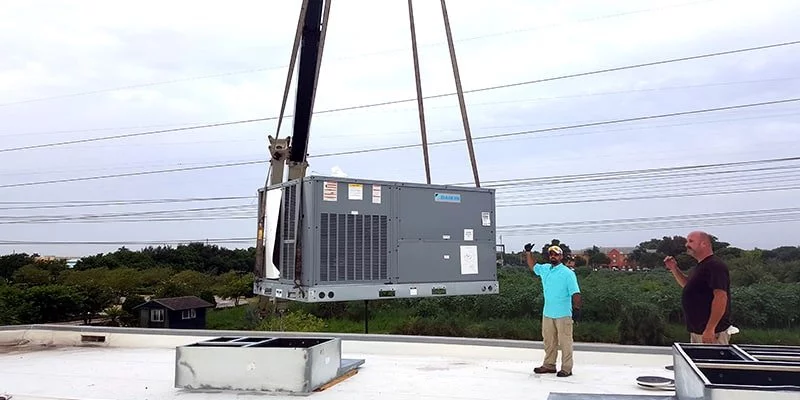 Rooftop AC Unit Installation in South Florida
Depending on the size and location of the facility, a commercial rooftop AC installation project can take days or even weeks.
The one mistake you don't want to make is going with an AC installation company that makes promises that they can't keep.
When we take on a commercial rooftop AC installation project, we take both your budget and your time into consideration. Making sure the rooftop AC installations are done as quickly as possible, and keeping building managers updated at all times. 
To learn more about rooftop AC unit prices and installations in South Florida contact AC Power & Comfort today!
We can schedule an installation consultation at your commercial facility at your convenience.
Frequently Asked Questions About Commercial Rooftop HVAC Unit Installation
What are the benefits of rooftop AC unit installation?
The average lifespan of a HVAC unit is 15 years. If you're the owner of a commercial property in South Florida, you may be wondering what the advantages are of installing a rooftop AC unit. There are actually quite a few reasons why the replacement of a rooftop HVAC unit makes sense including:
Saving money with repairs: Choosing to do a rooftop installation can extend the life of your HVAC unit as well.
Reduce energy costs: our technicians are well-versed on all the new energy-efficient rooftop units that can help you stay cool and save you money.
Quieter HVAC system: Many newer units aren't as noisy as they used to be, but they can still project a lot of noise, which isn't the best path for facilities where productivity is the goal. Choosing to do a rooftop AC installation is the best way to cancel out noise.
Better air quality
and more
These are just a few benefits of choosing commercial rooftop AC unit installation. To learn more about why you should choose a rooftop installation, call AC Power & Comfort today at 561.405.5946.
Do rooftop AC units have filters?
Much like residential AC units, commercial rooftop AC units also have air filters. These filters need to be maintained and cleaned regularly, just like smaller residential AC unit filters. When filters become dirty, your air will not blow efficiently, your indoor air quality will be compromised, and your rooftop AC unit will be working overtime. It's always important to clean out your filter routinely after your rooftop installation. To learn more about how to properly clean air filters and outdoor inlet screens, contact AC Power & Comfort to speak with a professional AC technician.
How much does a rooftop AC unit weigh?
The actual weight of a rooftop AC unit will vary depending on the unit you choose. A 3-ton unit can weigh up to 200 pounds. It's important to consider the weight of a unit, but it's also important to know the tonnage, which addresses the cooling power in each unit. Give AC Power & Comfort a call and we can give you a comprehensive look at various brands, the weight of each unit, how tonnage affects your cooling, and other factors you need to consider when choosing a new rooftop HVAC unit.
Can you install a mini-split unit on the roof?
Yes. In fact, our trusted technicians have a lot of experience installing mini-split systems on rooftops. (See pictures above of a new 24K BTU Daikin Flush Mount Cassette mini-split installation in West Palm Beach). Mini-split rooftop installation needs to be done with precision and care, so if you're interested in installing a mini-split on a commercial rooftop, you only want to work with experienced rooftop HVAC installation technicians. Contact AC Power & Comfort today to schedule an appointment for a consultation and an installation estimate.
Do new rooftop AC units need regular maintenance checks?
Having routine maintenance inspections on your rooftop AC unit can help you identify issues before they start, saving you money on expensive repairs, and increase the lifespan of your rooftop AC unit. Remember that because your unit is located on the roof, it can be difficult to notice issues. You won't be able to hear or see any signs of a malfunctioning unit. This is why it's incredibly important to schedule routine inspections. When searching for rooftop HVAC unit installation near me, remember that AC Power & Comfort services every area of South Florida.
Rooftop AC Unit Brands
AC Power & Comfort installs the following rooftop AC Units brands that are 10tons and up.
Lennox
Carrier
American Standard
Trane
We have experience installation rooftop AC units from Stuart to Miami. We're happy to provide you with an estimate and address any questions about rooftop AC unit installations. Call AC Power & Comfort today! Broward 1.954.204.8399 – Palm Beach 1.561.405.5946